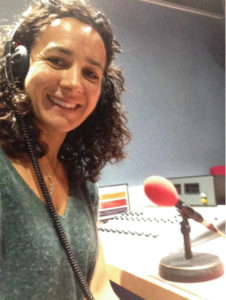 I have appeared on many radio programs and podcasts including: BBC Woman's Hour — Radio 4 (UK), 
Sirius XM — Jimmy Mac on Dave Nemo (USA), "
Moments with Marianne Pestana" (USA), ABC Radio National — with Lynne Malcolm (AUS), Women's Radio — Hazel Butterfield (UK).
See below for links to just some of them.
I talk about my book, my story and my research as a way to drive healthy conversation around mental illness, grief and suicide as well as provide insight into post traumatic growth and resilience.
An interview with Lynne Malcolm at ABC Radio National for All in the Mind on Facing the Dark to See the Light.
An interview with George Dimarelos, discussing Man's Search for Meaning by Viktor Frankl. Our conversation includes the limits of language, post-traumatic growth, and reading a great book at just the right time.
An interview with Paula Fontanelle for Understand Suicide
To watch the interview you can also visit the Understand Suicide YouTube channel
An interview with Nesh Nikolic about raising awareness around suicide and reducing the stigma associated with mental illness